Food Pantry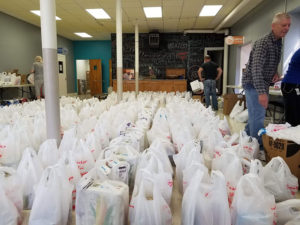 New Life Fellowship is proud to partner with the Pittsburgh Community Food Bank to bring groceries every first Thursday of the month to our neighbors in the West End and surrounding area out of our building at 912 Lorenz Avenue.
Every week we pray over each person and their groceries before they arrive and we love to pray with people on the spot if they are in need of physical healing or prayer for any situations they find themselves in.
We believe that meeting a person's physical need is a picture of what Jesus does for us when we get to know him and it's our joy to re-present Jesus to our community. We began our food pantry ministry in 1981 and look forward to the many more years to come!
Are you interested in volunteering?
BECAUSE WE HAVE A PLACE FOR YOU! Opportunities to serve include coming on distribution days to help set-up, bag groceries, sign-in clients, deliver groceries and clean up.
We also need hands to help unload the monthly truck delivery from the Food Bank. Distribution days are currently the first Thursday of the month and truck deliveries happen on the morning of the first Monday of the month. We meet at 8am but officially get started handing out groceries at 10:30. Contact our office to let us know when you can help out, or simply come and check us out!
Are you in our local area and in need of groceries?
We distribute groceries on the first Thursday of each month from 10:30-12:30pm.
Please bring your proof of income and ID with you to 912 Lorenz Ave through the church hall doors. We will have you fill out information that we then store for your future visits. Please note that each year we will have you update your forms and information.