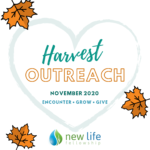 On Thanksgiving weekend, we will be delivering 60+ care packages to those in need in our city. You can participate by:
2) Assembling
On Saturday, Nov 21, we will be putting the packages together at our West End location (912 Lorenz Ave) at 2pm. No prior registration is required to help assemble.
3) Delivering
On Thanksgiving weekend (Sat/Sun, 11/28-29), we will be delivering packages to people's homes. If you would like to help deliver, please contact Eliot (518-817-7932 or eliot@avantbridge.com) to register.
For those who can deliver on Sunday, we will meet at 912 Lorenz at 11am to pray together before heading out.