Our Bridgeville location can be seen from I-79 and is just off of Prestley Road, only minutes away from the Chartiers Valley Shopping Plaza, the 79 exits for Bridgeville or Kirwin Heights, and Trader Jacks. The driveway leads up the hill to beautiful green space, ample parking and people ready to welcome you into our church facility. There are handicap spaces located on the side of the building, but you are also welcome to pull up to the front door of the building to drop off elderly or disabled guests. Feel free to alert a greeter if you need help in any way.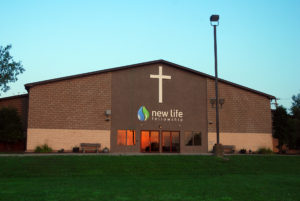 We start each Sunday at 10AM and gather together for approximately 75 minutes. During this time we worship, pray and receive practical, Biblical teaching to apply to our lives.
The dress code is casual, worship is contemporary and the messages are conversational. During the service on the first Sunday of each month, we receive communion together as part of the service. On the other Sundays, the communion elements are available in the rear of the sanctuary for people to receive during worship.
The main goal of our weekend service is that each person will have a genuine, tangible encounter with Jesus Christ so they can leave encouraged and filled with hope, peace and joy to carry them through the week.
Our people are welcoming to both extroverts and introverts. If you arrive early, coffee is available in the foyer. Grab a cup and feel free to meet as many or as few people as you want.
If you are coming with kids, there are separate activities during the service for each age group from infant through sixth grade. As you enter the building, you will be directed to the entrance of the kids wing to securely sign your children in – this is also where you will pick them up following service. If you are visiting for the first time and feel more comfortable keeping your kids with you during the service, you are welcome to do that.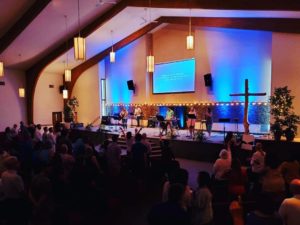 We Look Forward To Meeting You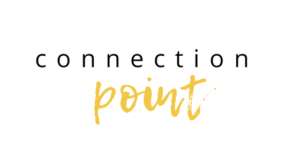 At the conclusion of the service, please stop by the Connection Point in the lobby before you leave to say hi and let us know you were visiting. A smiling, volunteer will give you a free gift just for coming to worship with us that morning.
If you have any other questions about what to expect at our weekend services, please don't hesitate to call or send an email to the church office.